SS. Tryphon and Respicius, Martyrs, and S. Nympha, Virgin and Martyr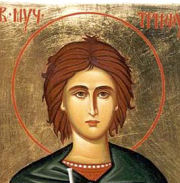 In the reign of Decius, Tryphon suffered martyrdom at Nicea in Bithynia. The tribune Respicius, touched by his fortitude, was converted, and both were condemned to death by scourging, in the year 250.
Two centuries later St Nympha, a Sicilian virgin from Palermo, fled to Italy before the invading Goths, and died in Tuscany. Her feast is kept today, because her body was taken to Rome, and laid in the church of SS Tryphon and Respicius. The station on the Saturday after Ash Wednesday was formerly held in this church.
Clamaverunt justi, et Dominus exaudivit eos: et ex omnibus tribulationibus eorum liberavit eos. * Benedicam Dominum in omni tempore: semper laus ejus in ore meo.
The just cried, and the Lord heard them; and delivered them out of all their troubles. * I will bless the Lord at all times: His praise shall be ever in my mouth.
(Psalm 33:18,2 from the Introit of Mass)
Grant, we beseech Thee, O Lord, that we may ever keep with rejoicings, the feast of Thy holy martyrs, Tryphon, Respicius, and Nympha: and that through their intercession we may ever enjoy Thy protection.
(Collect)
From the Catholic Encyclopaedia:
http://www.newadvent.org/cathen/15079a.htm