St Sylvester Gozzolini, Abbot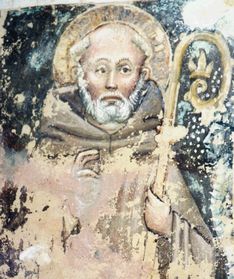 St Sylvester was born at Osimo, near Ancona. He became a canon of the cathedral. When present one day at a funeral, he exclaimed: "I am today what this man was, and one day I shall be what he is." This is referred to in the Collect. He immediately gave up everything, and retired into a desert where he devoted himself to penance and meditation. Later he built at Monte Fano a church in honour of St Benedict who advised him in a vision to found the Order of Sylvestrines, whose rule and habit he described to him. This branch of the Benedictine Order spread in a short time and already numbered twenty-five houses in Italy when its founder died in 1267, at the age of ninety.
Os justi meditabitur sapientiam, et lingua ejus loquetur judicium: lex Dei ejus in corde ipsius. * Noli aemulari in malignantibus: neque zelaveris facientes iniquitatem.
The mouth of the just shall meditate wisdom, and his tongue shall speak judgement: the law of his God is in his heart. * Be not emulous of evildoers: nor envy them that work iniquity.
(Psalm 36:30-31 and 1 from the Introit of Mass)
O most merciful God, who, when the holy abbot Sylvester, by the side of an open grave, stood meditating on the emptiness of the things of this world, didst vouchsafe to call him into the wilderness and to ennoble him with the merit of a singularly holy life; most humbly we beg of Thee, that like him, we may despise earthly things, and enjoy fellowship with Thee for evermore.
(Collect)
From the Catholic Encyclopedia:
http://www.newadvent.org/cathen/14372b.htm
On the Sylvestrines:
http://www.newadvent.org/cathen/14372c.htm