St. Hedwig, Widow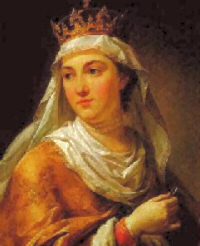 Hedwig, daughter of a prince of Carinthia and aunt on the mother's side of St. Elizabeth of Hungary, married Henry, duke of Poland. She macerated her body both by fasting and watching and by the roughness of her clothes; she served the poor at table; she washed and kissed the ulcers of lepers.
The duke having died, she renounced the world, and entered the Cistercian monastery of Trebnitz where her daughter was abbess. She died on 15th October 1243, and Poland honours here with special veneration as her patroness.
Cognovi, Domine, quia aequitas judicia tua, et in veritate tua humiliasti me: confige timore tuo carnes meas, a mandatis tuis timui. * Beati immaculati in via, qui ambulant in lege Domini.
I know, O Lord, that Thy judgements are equity, and in Thy truth Thou hast humbled me: pierce Thou my flesh with Thy fear, I am afraid of Thy judgements. * Blessed are the undefiled in the way, who walk in the law of the Lord.
(Psalms 118:75 and 120:1 from the Introit of Mass).
Deus, qui beatam Hedwígem a saeculi pompa ad humilem tuae Crucis sequelam toto corde transire docuisti: concede; ut ejus meritis et exemplo discamus perituras mundi calcare delícias, et in amplexu tuae Crucis omnia nobis adversantia superare.
O God, who didst teach blessed Hedwig to renounce the pomps of this world with her whole heart, so that she might humbly follow Thy cross; grant that, through her example and merits, we may learn to trample under foot the perishable desires of this world, and by cleaving to Thy cross overcome whatever may withstand us.
(Collect)
Catholic Encyclopaedia:
http://www.newadvent.org/cathen/07189a.htm