SS. Sergius, Bacchus, Marcellus and Apuleius, Martyrs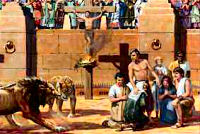 "In lower Syria," says the Martyrology, "the holy Martyrs Sergius and Bacchus, noble Romans, who lived under the Emperor Maximian. Bacchus was scourged with thongs that tore his flesh; he died in his torments confessing the name of Jesus. Sergius, forced to wear shoes with nails piercing his feet, remained firm in the faith and was beheaded. At Rome the holy Martyrs Marcellus and Apuleius abandoned Simon the Magician, whose disciples they had been, to follow the teaching of St. Peter. After the martyrdom of the apostles they themselves obtained the same crown under the ex-consul Aurelian and were buried near Rome."
Sapientiam sanctorum narrent populi, et laudes eorum nuntiet Ecclesia: nomina autem eorum vivent in saeculum saeculi. * Exsultate, justi, in Domino: rectos decet collaudatio.
Let the people show forth the wisdom of the saints, and the Church declare their praise: and their names shall live unto generation and generation. * Rejoice in the Lord, O ye just : praise becometh the upright.
(Ecclesiasticus 44:15,14 and Psalm 32:1 from the introit of Mass)
Sanctorum Martyrum tuorum nos, Domine, Sergii, Bacchi, Marcelli et Apuleii beata merita prosequantur: et tuo semper faciant amore ferventes.
May the blessed deeds of Thy holy martyrs Sergius, Bacchus, Marcellus and Apuleius plead for us, O Lord, and may they make us ever burn with love for Thee.
(Collect)
From the Catholic Encyclopaedia:
http://www.newadvent.org/cathen/13728a.htm